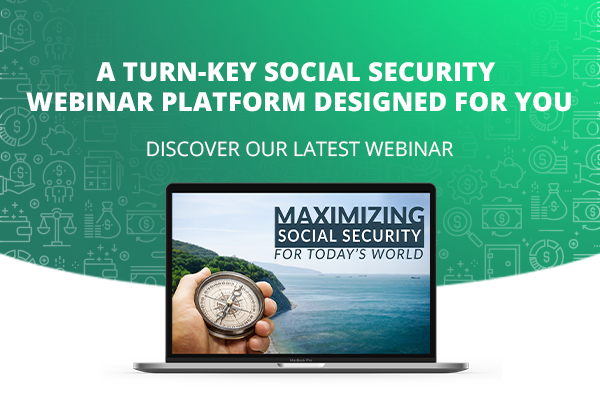 Amidst global financial crisis and unprecedented obstacles, Lone Beacon remains resolute and committed to identifying and relentlessly capitalizing on growth for our clients. While traditional seminars and face-to-face appointments have drastically changed during this period of widespread social distancing, the need for steadfast financial help has never been greater. Right now, the most effective way to reach prospects and reopen lines of communication is through digital platforms – specifically, The Webinar. Lone Beacon recently added a new webinar on Social Security to its webinar offerings.
Our "Maximizing Social Security For Today's World" webinar content helps financial advisors engage with their hard-earned leads by demystifying the complex Social Security claiming rules. This consistently proves to be a popular topic, as many people have questions about when they should claim, how spousal benefits work, and how benefits are adjusted for inflation. The webinar covers all of these topics, plus timely information about the financial state of the Social Security program, and practical information on how to view benefit statements.
Lone Beacon also created our "Tax Traps" webinar, which covers information on tax credits and deductions. It puts tax planning in the context of the COVID-19 pandemic by covering how market downturns could affect retirees' and near-retirees' tax burdens, and opportunities to take advantage of this year and in the future. It also highlights the most important parts of the CARES Act for Americans age 50 and over. We also offer the "Keep Calm and Retire On" webinar, which addresses the COVID-19 pandemic and outlines steps for those nearing and in retirement to take.
Much like a well-diversified portfolio, Lone Beacon knows that it is imperative to create an integrated approach in marketing. Marketing elements are more effective when they work together and are part of a larger marketing ecosystem. We give as much thought to how to promote our content as the content creation so that our advisors can see maximum ROI. In addition to the webinar presentation itself, Lone Beacon provides the following marketing elements:
Webinar Landing Page
Social Media Ads
Social Media Campaign Management
Email Templates
Custom Branded Social Security Guide
Lone Beacon has the ability to not only learn from its 1st party data on-hand but to apply strategic improvements based on it.  That, coupled with national empirical data as well as data from specific advisories across the country, led Lone Beacon to perform a new study and analysis on recent webinar metrics. Our Webinar Case Study looks at data from 25 webinars to assess the success of on-demand vs scheduled webinars and the webinar platform in general – read to find out what we learned.
"Maximizing Social Security For Today's World" is the most recent Lone Beacon webinar, and there are more to come: Soon we will offer additional Webinars on Guaranteed Income and Annuities, as well as Healthcare & Long-Term Care. Come have a conversation with us, and let's get things back on track.