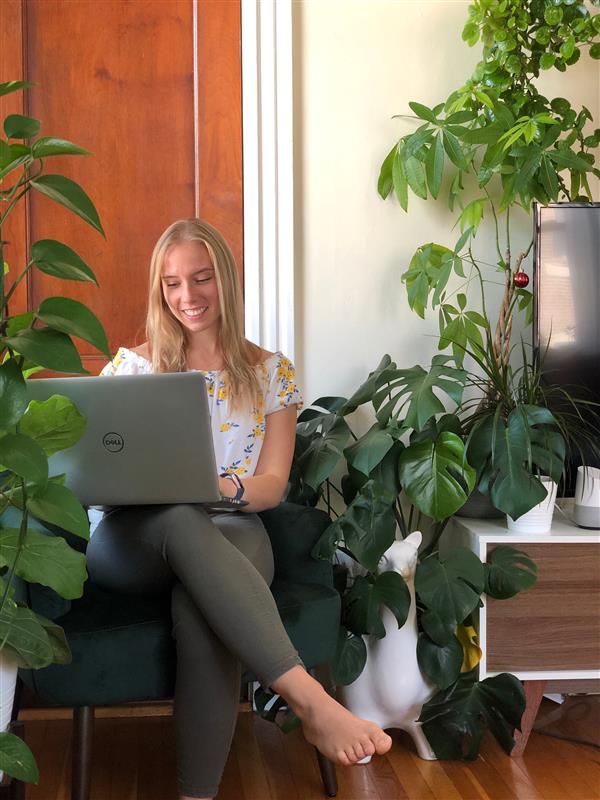 Today marks 3 months that Lone Beacon has been working from home. Read what our Vice President of Operations, Stephanie Sjoblom, has to say about her work from home experience and the plan to reopen our office.
What's your role?
I'm Vice President of Operations. There are two parts to my role: One is the operations side, which means that I take care of anything from company-wide planning to handling employee relations to ensuring the health and wellbeing of employees. The other part of my role is to manage some of our biggest client accounts.
What is your home office set up?
I live in a two-bedroom apartment, and one room has always been an office, so the transition to working from home wasn't too difficult. I've got two monitors and a state of the art ergonomic setup. The room has two large windows that look out onto my porch, which is a lovely view. I've watched my plants grow out there during the last three months as Boston's winter eventually turned into spring.
How do you stay in contact internally?
We've definitely adopted a policy of overcommunicating internally during this time, which has helped us overcome the difficultly of working remotely. We've been utilizing the Microsoft Teams chat function for real-time conversations instead of email and have been using video chat often. We normally work remotely with our Denver team, so I feel like this experience has elevated our relationship with them since we never used to video chat before.
How do you stay in contact with clients?
We normally always work with our clients remotely. While client communication has gone up because we've been trying to stay ahead of everything during the pandemic, it's not much different logistically since we're still able to fulfill client requests and execute campaigns at 100% efficiency.
Have you developed any hobbies while stuck at home?
I've gotten into yoga, and I've been making use of my porch to grow vegetables and herbs. Right now I've got spinach, thyme, basil, mint, rosemary, tomatoes, and kumquats out there. Growing plants is really an old hobby for me – I have over 150 plans in my apartment. It's satisfying to look around and see that you're keeping a jungle alive in an urban environment. They're my babies. I'm a plant Mom. My newest edition to the family is a dolphin plant, and yes, it looks like a bunch of different dolphins, look it up!
How did you create a plan to reopen the office?
The city of Boston has many rules and restrictions on reopening, so I've had to figure out how we can comply. When we open in a few weeks, we will have signs around the office to turn two-way walkways into one-ways and will have everyone spaced 6 feet apart. This means not everyone can come in at one time. We'll also have an app that keeps track of anyone who doesn't feel well or wants to come in on a certain day. We'll also be cleaning three times a day, and only allowing one person to be in the elevator at one time. There's a bunch of other smaller practices that we'll be putting in place as well, these are just the big ones.
What are you most looking forward to about going back to the office?
I'm looking forward to seeing all of my co-workers in person because I miss them, and I'm also looking forward to being back in my work environment. It'll be nice to be able to separate work and personal spaces again. I also miss our office dogs that occasionally visit – I haven't seen a dog in weeks.
What has this time taught you as VP of Operations?
We're used to working remotely with our Denver team, but we had never really done video conference before. It's been great to see our remote co-worker's faces, and we'll be continuing to video chat them when we get back to the office. Overall, working remotely has forced us to take a closer look at our protocols and processes within the company, and we're in the process of implementing new practices that will continue elevating the work we were already doing. Working through this weird time has been such a great challenge for the company as a whole, and we're super excited to emerge from it as a stronger team with an even stronger appreciation for the little things!
Was this article helpful? Should we publish more like this?