We're excited to welcome two new members to the Lone Beacon family, Christina Pappas and Gabby DeMaria! Both come to us with valuable digital marketing experience and will help us grow as a company. Here's a little about their backgrounds and what they hope to accomplish at Lone Beacon.
Gabby comes to us with SEO and digital marketing experience across several industries, as well as strong organizational skills. She created a work order system at a previous job and moved operations at her last company over to a project management app similar to Asana, the app Lone Beacon recently started using. She will manage accounts and projects and will help our team move more of our operations to Asana.
"As we grow, I think Asana will make it easier to take stock of each client and see what we've done in the past – all of the information you could want will be readily available, which makes onboarding team members go smoothly," says Gabby. There's so much potential for increased clarity, accountability, and efficiency with Asana, and we're excited to have Gabby unlock all of it. Gabby also joins the Lone Beacon Cat Owner's Association with George, a 23 lbs boy. "For context, he was 25 lbs when I got him, so 23 lbs is an improvement!"
Christina comes to us from a large agency and was drawn to Lone Beacon's small, nimble team that would allow her to focus on one vertical. She's worked on everything from Jet Blue to Burger King and is excited to dedicate herself to becoming an expert on the financial industry so that she can provide valuable marketing insight specific to this vertical.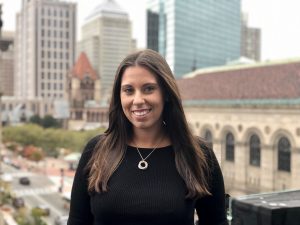 "I'm also looking forward to developing close relationships with clients. At my previous job, the client team was made up of 25 people which made communication and relationship building difficult," says Christina. "At Lone Beacon, the relationships with the clients feel more like a partnership than a traditional agency-client relationship." She was drawn to Lone Beacon's smaller size, where there's more opportunity to voice your opinions and introduce more ideas. Christina is an avid tennis player who loves her family more than anything – her mom is usually her doubles partner. So far, she considers her biggest achievement in life to be winning an apple pie baking contest.
We look forward to working with Christina and Gabby and seeing how they take Lone Beacon to the next level. Get in touch to learn about our team, capabilities, and new digital offerings!
Was this article helpful? Should we publish more like this?