The future of live in-person events is unknown. While states are slowly opening back up, it's unclear when people will be able to gather in groups the way we used to. This makes the fate of dinner workshops anyone's guess. It's safe to say that those who are content to wait for things to "go back to normal" are leaving their business to fate and opening the door for competitors who are creating strategies for today…and tomorrow. Marketing diversification has never been more important than in today's changing world.
The Direct Mail Dinner Event Standard
Direct mail for financial seminars yields an average of a 1% response rate, and dinner events yield an average of 80-85% attendance rate.[1] In the past, an advisor might send out 10,000 mailers, get 100 responses, and end up with 80 attendees across a few events. Today, there are three primary factors that will even further limit the yield of a mailer campaign:
According to Lone Beacon's recent nationwide study where over 1,200 people were asked the question, "What would best describe your attitude toward attending a public gathering over the next three months?" nearly 50% of respondents unsurprisingly said they would likely not attend or only attend with the highest level of caution.[2]
75% of Americans don't feel comfortable going out to eat yet even as restaurants reopen, and plan to avoid restaurants or dine out less frequently[3]
Restaurant capacity is limited nationwide, and in some cases up to 50%[4]
Prior to COVID-19, 73% of marketers and sales leaders found Webinars to be one of the most reliable ways of generating quality leads.[5] Webinars provide a valuable opportunity to secure the top of funnel leads that will be critical to future sales opportunities and engage your existing database while growing your market share and brand recognition.
Baby Boomers Increasing Want On-Demand Information
How Lone Beacon Can Help
Lone beacon recognized the connection between broadcast, live events, and digital marketing early on. We've been at the forefront of collecting 1st party data, nurturing users with content, and converting users through digital platforms. When the 2016 election period was in full swing, Lone Beacon leveraged a multitude of digital platforms for advisors, including webinars, to help educate clients and prospects on the potential retirement impacts of the election in a timely manner. Whether it's an evergreen topic such as taxes or social security, or a timely topic such as new legislation, Lone Beacon provides regular content and gives advisors access to a wide array of options to best fit an individual firm's needs. Some of our most recent webinar topics include Guaranteed Income & Annuities, Social Security, and Market Volatility.
Our Webinar Series is a fully developed and turnkey digital "seminar" alternative designed to help financial advisors engage with their prospects and clients on a consistent basis. Moreover, it allows advisors to nimbly and affordably be in front of clients and prospects who seek their advice. These webinars could be delivered and executed fully by our staff or delivered with all necessary components for those advisors who want to execute on their own.
What the Data Tells Us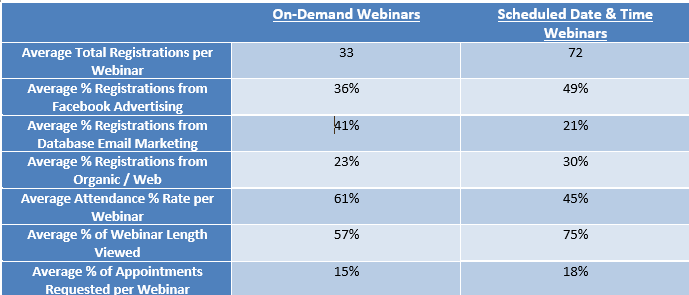 Reach out to us to find out about how our monthly marketing program gives you the tools you need to be successful, with the support and execution from the leading financial marketing experts.
[1] Advisorist.com
[2] Lone Beacon Financial Consumer Study: The Survey Says…Five Critical Questions (And Answers) that Every Financial Advisor Should Know About Their Consumers
[3] Survey Performed by Wall Street Firm Cowen
[4] Market-Research Firm Gordon Haskett
[5] InsideSales.com
[6] QuickSprout
[7] 99 Firms Webinar Statistics
[8] eMarketer's The Digital Video Series: Baby Boomers | Infographic
[9] DMN3 Study