We value thought leadership at Lone Beacon and encourage everyone here to think "big picture" when it comes to marketing philosophy. We all own and operate within unique aspects of Lone Beacon, and together we create the ecosystem that empowers our clients to succeed in their financial marketing. Have you ever been curious about what our individual top marketing tips for an advisor would be? Here are a few words from our thought leaders:
Stephanie Sjoblom, Vice President of Operations
"Commit to something for the long-term and dedicate a specific plan with clear objectives and outcomes."
An example of this is email marketing: It's not just a box to check off, it's a tool to use to really advance multiple marketing efforts. Email marketing has the power to get and nurture leads, but it must be done deliberately and consistently. That's why we create original, engaging content for each weekly email, and work to grow databases. Email marketing can do so much for an advisor, from engaging prospects with content, to promoting an event to a large database, and utilizing it to spur more client referrals.
Michael Schaffman, Vice President of Sales and Marketing
"Make sure all of your marketing platforms are connected."
Everything we do, from website creation to content to email marketing is connected in an overall marketing ecosystem. Advisors often get stuck in the 'silo-ed marketing' mindset. Someone may have a fantastic idea for a Facebook campaign, but that campaign isn't going to perform as well as they might hope if their website isn't in top notch shape, or their email follow-up campaign isn't properly set up. All marketing elements should work together in an ecosystem – the moment a platform tries to perform by itself is when you introduce the possibility of outside forces causing havoc on the campaign. But, if everything is connected, each element is more likely to be effective.
Don Kwak, Director of Marketing Technology and Analytics
"Optimizations and adjustments need to happen often along the way to reach the end goal."
We don't have a 'set it and forget' mindset about anything we do. Many times, our goal is to generate more top-of-the-funnel leads or increase brand awareness. We constantly monitor how our websites, Facebook campaigns, and eBlasts are performing so we can optimize based on real-time data. What works perfectly in one market could need to be tweaked to work in another market, and we adjust accordingly.
Christy Parmenter, Marketing Manager
"Give it time! Awareness will lead to leads – trust the process."
Sometimes clients expect to see a huge uptick in leads overnight, but this isn't always realistic. We build our campaigns so that everything works together: Someone might hear a radio commercial, see a Facebook ad, and then tie them together and seek out more information. This is how brand recognition works. Some of our campaigns focus on the "top of the funnel," meaning they focus on building this awareness. Other efforts are focused on nurturing leads who are making their way down the sales funnel. Our marketing automation platform Act-On helps us see where everyone is in the funnel, so that we can tailor campaigns accordingly.
Tyler Dell'Aquila, Marketing Manager
"Create compelling content! Something you would click on."
On average, the weekly blogs garners 68% of the weekly e-blast clicks. We invest time and effort into choosing topics, compelling titles, and relevant images that the audience will respond to. At the end of the day, the best thing you can do is put yourself in your audiences' shoes and ask yourself, "Is this something I could see myself clicking on or being interested in? Someone I know?" If you wouldn't click on it, why would you expect someone else to?
Zoe Menendez, Marketing Coordinator
"Make sure you know your audience and push messaging that is relevant to their needs."
Traditional advertising and marketing doesn't cater to the 50+ demographic as frequently or effectively as it should. We focus on speaking to this group specifically, addressing their concerns and interests, and keeping up to date with how they engage with media. Aside from being relevant to your audience on an emotional level, ad relevancy also impacts how much or little your ad gets served on Facebook. One of the major data points Facebook's algorithm takes into consideration when auctioning your ads for ad space is your relevancy ranking. Ads that have a higher relevancy to your audience will get prioritized and will be shown to viewers first. Ads that have lower relevancy get pushed to that back and as a result, are not shown as frequently.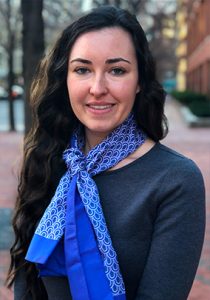 Laura McLaughlin, Manager of Content
"Timely and consistent content across all mediums/platforms."
One benefit of getting all your content from one place is that it can carry a consistent message across all mediums and platforms. From blogs to guides to radio, the same message can be reinforced. Different content pieces can build off of each other – if someone shows interest in a blog about Social Security, we can direct them to a long-form blog on the same topic or offer a resource like a guide for them to download.
We have several exciting initiatives for 2020 that we will chronicle in our blog posts, so stay tuned. If you're interested in transforming your marketing approach and hearing more from our thought leaders, reach out to us!